Hej!
Scandinavia has an impressive list of things they're known for. In my book, the two most significant things on the list are Vikings and good furniture design. Since I couldn't find any Vikings for sale on Craigslist, I'll be sharing the best furniture you can buy to raise your apartment's Nordic levels.
---
---
This gorgeous little table usually retails for $239. Pickup is in Downtown Brooklyn and you can find the product page here. According to Hem, "The Key Table, by GamFratesi, is a feat of nuanced engineering." Not sure what that means, but it's super cute. Check out the leg details on the bottom:
---
Blu Dot is a cool company based in Minnesota (just as cold as Scandinavia, so it counts) with a unique sense of style. This table is a clever, airy side table that could double as a small coffee table. You could probably stuff it with some chunky blankets for extra hygge. By the way, you can buy this new rn for like $160, so talk this one down to $100.
---
Muuto makes some pretty funky and interesting stuff. This is like the designy version of those white box Ikea shelves that we've all owned at some point. The cool thing about these shelves is they can be disassembled and stacked in whichever way you'd like. Muuto said you can even use them as side tables! They're held together by small white and yellow metal brackets. Check out some stacking inspo here.
---
While not Scandinavian at heart, these Eames Molded Plywood Replica chairs would be right at home sitting on a soft white rug in a coastal Nordic retreat. This style is produced in a dining chair version (DCW - Dining Chair Wood) and a lounge chair version (LCW). I'm quite confident they're the dining chair version from the photos. Check out the real deal and some more inspo here. Walnut DCW shown below in this very nice dining room.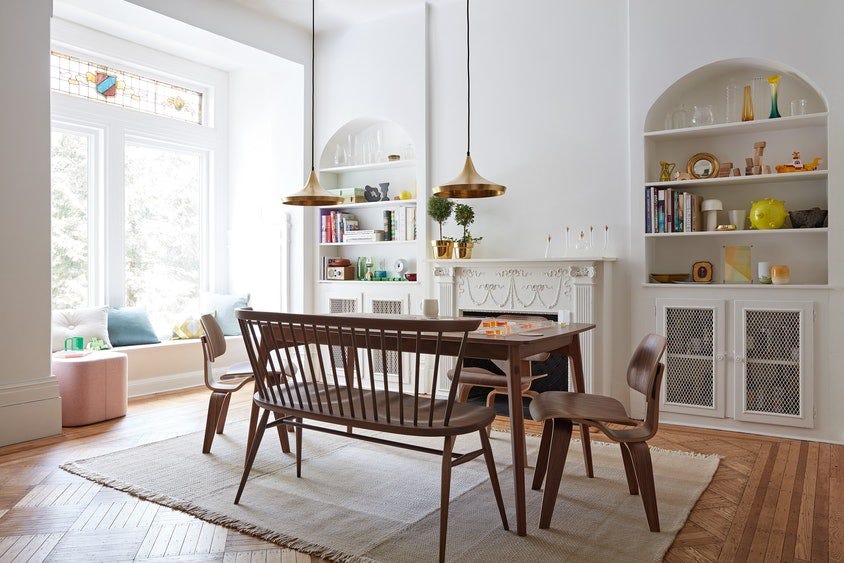 ---
Plant not included (bummer). The diameter is about 13". The top is glossy and the bottom is matte. I really love the delicate metal legs this is standing on!
---
---
Thanks for reading! As always, just reply to this email if you're on the hunt for something specific!
Med vänlig hälsning,
Matt